Which is the first place that hits your mind when you think of a  quick getaway or a quick vacation? Each time anyone thinks of a quick vacation, one of the most common places that come to mind is Bangkok. Why is that so? This is because Bangkok has a lot to offer in terms of scenic beauty, shopping, fun and play for kids and adults alike, all of this at a very reasonable price. It is no wonder people from all over the world want to visit Bangkok, at least once in their entire lifetime.
The scenic beauty that Bangkok has to offer is breath taking. You might be amazed to that that Bangkok is such a beautiful and dwell maintained country. It is no wonder that Bangkok scores brownie points on every aspect. Bangkok is very famous for its Buddhist temples. Let's discuss a bit more about them.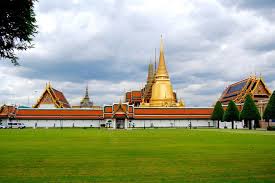 These temples are famous for its culture rich architecture. Every wall has a story to tell. It is an architect's paradise indeed. Most of these temples have their interiors made of gold and coloured glass.
It is a peaceful and serene feeling to visit these temples early in the morning.  This is the perfect timing as a travel to the temples would not be too hot as well. Each of the temples has a lot to offer. Hence, do not be misinformed that looking at a few temples would suffice.
Wat Arun is known to be the most popular temple in Bangkok. It is also popularly known as the temple of Dawn. The temple opens up from 8 in the morning and closes at 5 pm. If you are travelling to Bangkok, it is worth visiting every temple that you have in the itinerary.