For those who travel to Thailand, many pick Bangkok as their destination because it's the capital of the country. However, if you prefer to visit some place a little different in Thailand, Chiang Mai could just be the place for you. Why? Read on.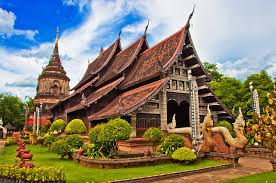 One of the Largest Cities in Thailand
Chiang Mai is the largest city in Northern Thailand. In fact, the metropolitan area alone has a population of almost 1 million people. Historically, Chiang Mai was a vital city because of its location – the Ping River provided access to some of the major trading routes. Many consider Chiang Mai a Creative City, and it is currently in the process of applying at the UNESCO to gain this official title.
It's a Great Tourist Destination
In 2014, Chiang Mai is voted one of the "25 Best Destinations in the World" on TripAdvisor. You can explore the many temples dotting the city, and get a glimpse of its history and culture. The wonderful and breathtaking sights will amaze you. It is a great place to reconnect with a whole new culture, and it is definitely the perfect place to have an adventure.
You Can Trek with the Elephants
Chiang Mai is a city of nature. Aside from the lovely jungle views, you can actually find yourself trekking beside elephants. These gentle giants are a delight to see, and you should make it a point to see them when you travel to Chiang Mai. Head to the Elephant Nature Park, a natural home and sanctuary for rescued elephants, and roam freely with them.
Shopping in Chiang Mai is Epic
When shopping in Chiang Mai, it is always fun to haggle. Learn a few local words so you can show the sellers that you know what you are doing and are not a typical clueless tourist. From the trendy clothes to authentic cultural trinkets, shopping in Chiang Mai is a fun and exciting experience. You can even find some very good quality silk and precious gems in Chiang Mai.
The Perfect Place to Wind Down
Chang Mai is surrounded by nature, and these sights are very calming and peaceful. It's actually the perfect place to wind down and rejuvenate yourself. There are countless spas and wellness centers in Chiang Mai. You can take a break from your sightseeing and have a relaxing day at one of them. You will feel that you are in paradise.